RV Black Tanks Wichita, Kansas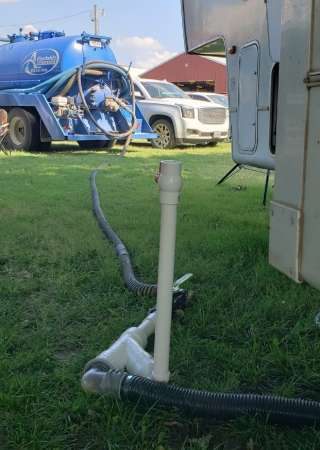 RV Black Tank Pump Outs
Do you need to have the black tank pumped on your RV?  Sometimes getting your trailer or motorhome to a local sani-dump isn't an option and you need to the septic pumping company to come to you.  That's us!
Affordable Septic Tank Service is a septic tank pumping and vacuum truck services company based out of Wichita, Kansas and serving Sedgwick County, Cowley County, Sumner County and Butler County.  We offer stationary RV blacktank pumping for campers, motorhomes, and travel trailers. 
We carry the appropriate fittings to couple our pump truck to your black tank and our drivers are well-versed and experienced with pumping out RV tanks the right way without causing any damage to your RV.
Our RV black tank service is something we offer to clients between our other local runs.  If you need your black tank pumped it's best to give us a call and we can tell you when we'll be in your area.  This is not an on-demand service as it's not economical for us to drive 30 miles to pump a 30 gallon tank.  However, if your RV is on our way to our from another local pumping project we can usually fit you in.
If you'd like to receive a quote to pump out your RB black tank please give us a call  (316) 755-8997 or fill out our contact form and we'll get right back to you.